Nantucket Airport - Jet Charter
Overview summary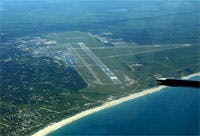 Nantucket Memorial Airport is on the south side of the island of Nantucket in the US state of Massachusetts. You may recognise the airport from the TV series "Wings" in which the airport is renamed as "Tom Nevers Field".

For private jet charter or helicopter flights from Nantucket Airport call PrivateFly on +44 20 7100 6960 (24 hours).
History | Watch approach video | Location | Facts | Flight Prices
Nantucket Airport History
The airport was originally a small landing strip on a farmer's field. But as demand for flights grew the Town purchased the air strip in 1941. During the 1940s and 1950s the airport was expanded and improved and renamed as the Nantucket Memorial Airport in honour of Nantucket men who died in World War II.
Landing at Nantucket Airport
Nantucket Airport Location
The airport is located 3.2 miles south-east of the centre of Nantucket town, approximately an 11 minute drive from the town centre.
Nantucket Airport Facts
Opening hours: available on request - please call for details
Airport Codes: ACK
Elevation: 48 feet
Nantucket Airport has a runway length of 1921 metres (6303 feet). The runway length is suitable for small propeller aircraft up to medium jets.
Private Jet Charter Prices - Nantucket Airport
Find private flight prices online for private jet charter to or from Nantucket Airport with our private jet cost calculator.
For a personalised quote or further information please contact us or call +44 20 7100 6960 (24 hours).